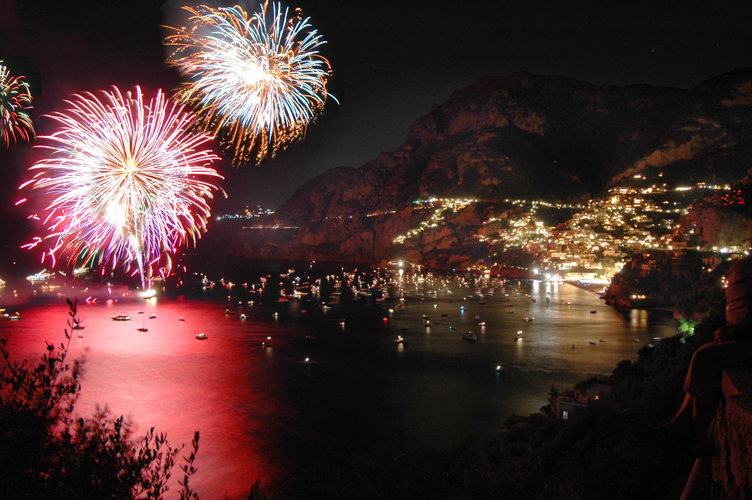 Ferragosto is an Italian holiday celebrated on August 15. The Catholic Church celebrates this date as a Holy Day of Obligation  to commemorate the Assumption of the Blessed Virgin Mary into Heaven. Before the Roman Catholic Church , this holiday was celebrated in the Roman Empire to honor the gods—in particular Diana—and the cycle of fertility and ripening.
The present Italian name of the holiday derives from its original Latin name, Feriae Augusti "Festivals Holidays of the Emperor Augustus".
In the past the businesses was closed and the entire month of August was taken as a holiday and leisure time in Italy in honor of this feast day. Today, Ferragosto is mainly a short holiday when Italians take brief vacations on the beach or celebrate on the streets in many cities of Italy.
On the Amalfi Coast, Ferragosto is celebrated "on the sea". Many religious processions to honor local Saints, following by Spectacular fireworks. The best are in Positano and Maiori.
Maiori, and its fraction Erchie,  celebrates the Assumption of Virgin Mary (Madonna dell'Assunta) also known as Virgin Mary on the sea (Madonna a mare). After the celebrations in the town center, eating the traditional aubergine covered with chocolate, the fireworks preparations take place. Same setting in Positano. Everything has to be set for midnight when boats and yachts crowd the Maiori and Positano's sea to admire the show.
We always spend all the day enjoying the beautiful sea of the Amalfi Coast. On our way, admiring the great sunset, we land on our favorite restaurant. Hidden on a coast rock and reachable by boat, it is an incredible scenery to have a dinner by the sea. Surely, That's a memorable scene which you will remember for all your life. After dinner, again on the boat. On our way with our heads up, we are astonished by the Positano and Maiori fireworks. Fireworks are consecutive, to be admired in Positano first, and in Maiori later. It is an amazing show: the sky become colorful with the charming Coast behind. A view that will take your breath away!