Tour Info
Price: from € 60,00
Meeting point: to be agreed
Duration: half day
Info: including local tour guide. Transfer on request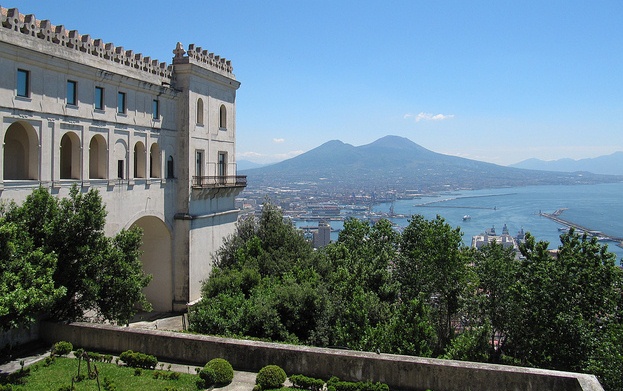 Naples Guided Tour
From Piazza Vanvitelli We escort you from the carthusian monastery of San Martino trought the Pedamentina stairs. The Pedamentina is a complex system of down stairs, with its 414 steps connects the Carthusian Monastery of San Martino to the city centre. This road was begun in the fourteenth century by the architects of Tino Campiono and Francesco de Vito and, in centuries to come, numerous renovations and extensions have given its present appearance. Historically, several times was equipped with systems defense against those who wished to besiege Castel Sant'Elmo. Today represents an important historical record and urban planning; the Pedamentina is also interesting from a landscape point of view, as it runs along the gardens of nearby Charterhouse and there are fine views over the Bay of Naples.
–Before your walking down the stairs, on request, you can visit Carthusian Monastery of San Martino (Certosa di San Martino)
The carthusian monastery of San Martino located on the Vomero hill, with its mass dominates the whole gulf of Naples  and its one of the best panoramic spot of the city.
Its among the most important national monument, it was consecrated in 1368, and since then it has undergone several transformations which led it from the original late gothic appearance to the current baroque style.
The baroque style is due to the activity of Cosimo Fanzago, a true magician of the sculpture and marble decoration, you cannot miss the church and the cemetery of the monks in the cloister.
The monastery means not only architecture and sculpture ,but also house of painting and frescoes of the most important Italian artists such as Ribera, Luca Giordano, Lanfranco and many others.
At the end of the 19th century, with the unification of Italy and the end of the monastic orders, the carthusian monastery was designed as a museum and its heritage has been enriched by numerous public and private donation.
That's why today we can find in it many intere string selection: the vessel collection (with numerous ancient ships), the printsand drawings collection, the collection of decorative art (with ceramic and works in precious metals, ivory and coral).
In short the monastery is doubless one of the places to not miss when you visit Naples!
Transfers from/to the hotel on request.