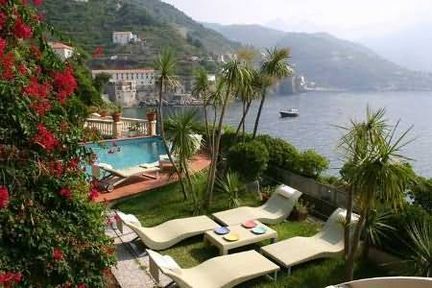 Amalfi Coast Five stars  Hotel, Via San Giovanni del Toro, 16 Ravello – Salerno
The hall has kept the original nature of court it once had: the ogival arches are of Moorish influence; precious ancient Greek and Roman marble columns from Paestum and the Amalfi Coast.
Antiquity, architecture and nature triumph at Hotel Palumbo in a mosaic of the ages.
A light-structure stone gallery overhangs the courtyard like a graceful, medieval balcony. The old courtyard stairway leads to the upper rooms, the dining room, the solarium, and to some of the bedrooms.
Large windows open onto the Gulf of Salerno, showing the quaint sea villages that dot the coastline from Amalfi all the way to the distant coast of Cilento.