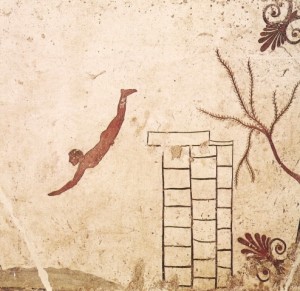 This walking tour takes you through the ruins of Ancient Paestum, and shows the truly magnificence of the city founded around the end of the 7th century BC by colonists from the Greek city of Sybaris, and originally known as Poseidonia, Paestum is one of the most important and fascinating Italian  Archeological site.
It was first a Greek city, then a Roman Colony. Forgotten for many Centuries  and only rediscovered in the XVI century, Paestum was expanding with the building of roads, temples and other features of a growing city. The main features of the site today are the standing remains of three major temples in Doric style, dating from the first half of the 6th century BC dedicated to Hera and Athena, although they have traditionally been identified as a basilica and temples of Neptune and Ceres, owing to 18th century mis-attribution. The city is surrounded by defensive walls that still stand. Paestum is also renowned for its painted tombs, mainly belonging to the period of the Lucanian rule, while only one of them dates to the Greek period. All its Greek frescoes are visible in the Archeological National Museum of Paestum, together with the cycle of Lucanian painted tombs with its most famous and unique "the Tomb of the Diver".
The tour of the historic site is really fascinating and impressive…don't miss it!!