Tour Info
Meeting point: at your hotel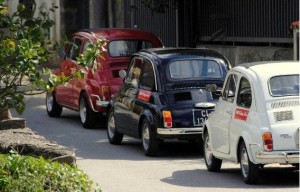 The Fiat 500 is a car produced in Italy by the Fiat Company since 1957. It was rear-engined on the pattern of the Volkswagen Beetle and, despite its diminutive size, the 500 proved to be an enormously practical and popular vehicle. In 1975 this car went out of production.
Fiat 500 is the car symbol of the Italian fun spirit, even if today it is quit difficult to see the vintage model on our streets.
If you would like to experience a funny adventure and relive the charme of the 1960s, Forget for a while the comfort and enjoy, like a Time Machine, a real italian experience. You'll drive one of these rare classics, a lovingly restored 1960s model, on your Fiat 500 tour of Amalfi Coast!
On board the legendary Fiat 500 to admire the beauties of the Amalfi Coast, a romantic tour or just an adventure to step back to the past.
Escorted by your attentive guide, drive through Amalfi Coast road and out into the towns. After enjoying the views, step inside the fishing villages to see how the locals live. Picturesque locations, nice people, tradition and culture; unforgettable moment of their daily life. Enjoy the attention from onlookers as you make several stops for photos, to chat with your guide or to switch drivers if you wish. Then for a great endind , have dinner in a suggestive restaurant just by the sea.
Book your tour and enjoy an unforgettable experience by driving one of the most famous Italian classic car ! ! !
500 Vintage Tour offers pick-up and drop-off pre-planned tours ideas or custom itineraries adapted to your own preferences.
Fiat 500s are small. Bookings are only accepted for a maximum of three adults, or two adults and two children, per car. Should your group be larger, no worries, you will be divided into separate cars, traveling together in a colorful convoy.
Highlights
4-hour Amalfi Coast tour by vintage Fiat 500
Follow your expert guide and drive on the Amalfi Coast road
Enjoy the views over the Amalfi Coast
Discover the fishing villages which will find on your way
Stop for photo opportunities and to change drivers if you wish
Suggestions about restaurant and lunch/dinner
Price includes Fiat 500, pick up and drop off, tour leader, insurance and tax.