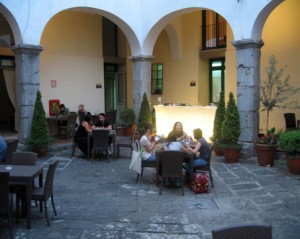 The Ave Gratia Plena is a renown hostel in Salerno, located in the heart of the Historical Centre, few steps away from the Salerno Dome.
Very careful to the client and to the services quality, the hostel was the first in Italy to get the Hi-Quality Certification, issued by the International Youth Hostel Federation.
In the 1650 the Ave Gratia Plena was a convent for "maidens and girls on the brink" and in the 2003 it became an hostel with comfortable rooms ensuite. Today, It maintains its original architecture but with modern services. The hostel offers a very pleasant stay: multilingual staff, 24h reception service, wifi connection, electronic keys, welcome corner and much more. Guests can, also, enjoy the peace and the relax in the cloister, in front of the 17th century fountain, or on the sundeck, which affords a fantastic view of the historic centre and the sea.
For a very nice stay, choose the great location and the quality of the Ave Gratia Plena: you will be more than welcome!