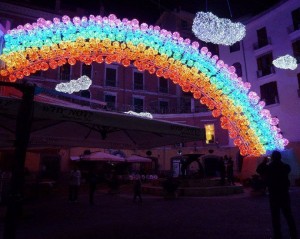 Feel the Magic Christmas with a guided tour of Salerno. From November till January you can walk over the amazing medieval town of Salerno, feeling a fairytale atmosphere. The 2013 Christmas edition of "Luci d'artista" is the spectacular exposition of luminous artworks throughout Salerno city.
The Luci d'Artista will bring you into an enchanted world. Join the Official guided tour of Salerno to admire the spectacular Christmas Lights; you will be escorted by official tour guide who will show you the main attractions of Salerno…Monuments, squares, churches and artistic sites. Walking to visit, shopping, tasting the local food: a different excursion, discovering every corner and being enhanced by the Lights!
The must see "Stars, Planets and enchanted garden"; the light that overcomes the darkness of disenchantment, relational worlds filled with a new cosmic harmony expressed trough mythological figures, shining flowers, crystal waterfalls and original lines. To complete the surreal tour you will see the amazing Christmas tree of around 27 meters.  This year you will see, also, the beautiful lights on the sea promenade.
That's the best time to visit the beautiful town of Salerno, where art, culture and history become more and more special. Don't waste your time, just live the Christmas with us!