Tour Info
Meeting point: to be agreed
Duration: full day
Info: including private boat and personal skipper, snorkeling equipment, drink and snack. Transfer on request. Minimum 2 people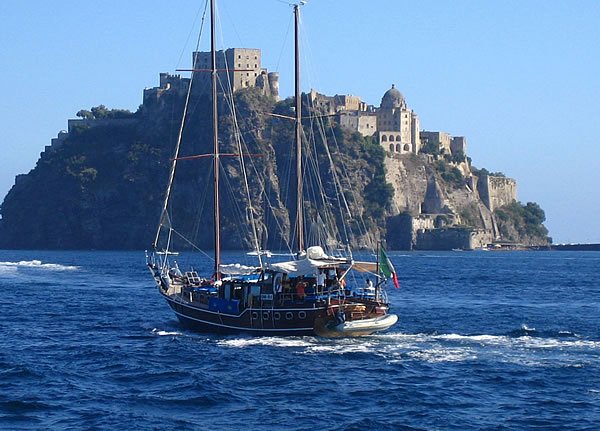 One of the best ways to visit the island is a  tour by boat, so you can visit the must enchanting bays where the landscape is wonderful. Starting from Ischia Porto, you can enjoy a breathtaking view of "Castello Aragonese", the Aragonese Castle, the ancient Spanish fortress. It is a truly unique and full of great charm, you move on to the "cave of the magician", then San Pancrazio where the rocks are of a light colour, almost like being on another island in the Mediterranean, then you reach Maronti Beach.
Maronti is the longest beach on the island,  characterized by deep water.
In the background a little promontory,  the "Tower of St. Angelo" attached to the characteristic village of  St. Angelo.
Leaving St. Angelo the coast becomes rough, but suddenly you come across a small fjord, the "Bay of Sorgeto", where you can swim in the sea even during the winter, with its hot water springs.
As soon as you cross the Bay, there is one of the oldest and most beautiful churches of the island, the church of "Our Lady of Help" built in 1400.
On the right, continuing the "Chiaia", the"beach of St. Francis", "Punta Caruso" until the eye is caught by a new inlet,  the "Bay of San Montano" in the town of Forio, characterized by fine sand and shallow water.
Continuing the circumnavigation of the island, we arrive at "Casamicciola Terme" thermal town par excellence, where on request, you can stop for a bit in the Spa.
Also, we can have an overview of Procida Island's sea, to watch some unforgettable, breathtaking views and landscapes such as the fortress of the medieval village of Terra Murata with the old Abbey and the old penitentiary, the picturesque fishing harbor of Marina Corricella, the marina Chiaiolella, the facades of Marina Grande and the Lighthouse.
You will be immersed in the splendid bay of Neptune's Kingdom, and the islet of Vivara.
Full day Tour including private boat and personal skipper.
Walking tour on the island with local tour guide also available.