Tour Info
Meeting point: to be agreed
Duration: half or full day
Info: private boat with skipper and tour guide, snorkeling equipment, drink and snack. Transfer on request. Minimum 2 people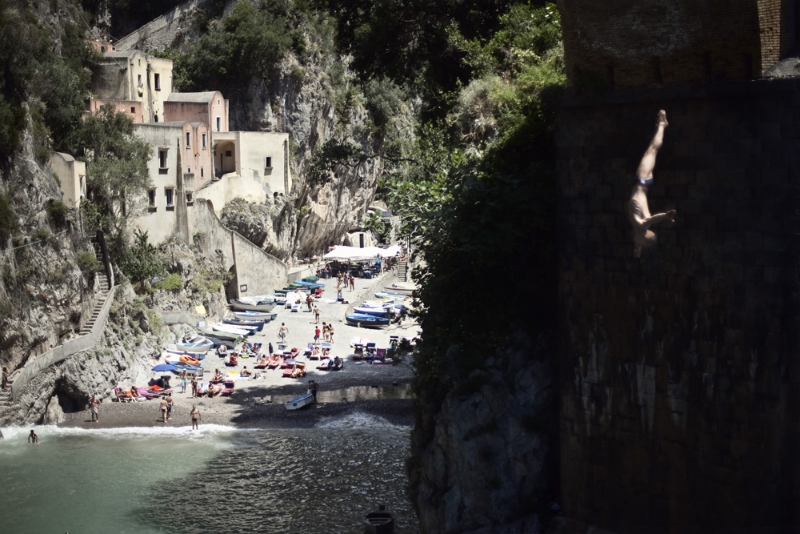 Amalfi Coast by boat to join a nice event!
"Furore, the painted village" is a chain of colored houses, trees, vines and agave that descends from the Monti Lattari, in absolute harmony with nature, in the cobalt blue waters of the fjord.  A stop in Furore is a "must", for its enchanting landscape and if you are along the Coast in July you cannot miss The "Mediterranean high diving championship cup".  The famous diving competition from great heights is held every year in July at the natural fjord of Furore.The race, only for the strongest athletes, takes place on the bridge at a height of 28m above the sea.
The 26th edition, will take place this year, the Czech Michael Navratil
won the competition last year following a breat-taking performance. Don't miss the opportunity to see one of the most breathtaking  Competition admiring, while you are here, the beautiful landscape of the Amalfi Coast. Join our excursions with a private boat and skipper, who will take you just to the competition spot. Reaching the place by boat and enjoying the show from the sea is the best way: it is like a first line seat!
The show goes on and you will be excited by the perfect mix of sport and nature. The natural "springboard" offered by the fjord: 28 meters above the sea, between inlets and reefs are able to take your breath away. As breathtaking is the  performance of the divers who choose to jump from this height with extraordinary somersaults in the air.  Men who become human bullets shot into the sea at 100 km / h.
Jump on our boat and enjoy the show!
Guided tour will be arranged by boat and personal skipper. Half day or full day tour.
Transfers from/to the hotel also available