Tour Info
Meeting point: to be agreed
Duration: half day
Info: including personal tour guide. Tranfer on request. Minimum 2 people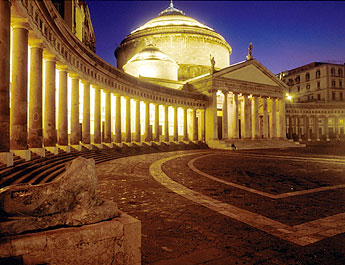 Guided Tour of Naples
This itinerary focuses on the oldest part of the city and runs along the roads used 2000 years ago by the Greeks and Romans.
A few meters from the sea is the Maschio Angioino, French castle of exceptional beauty built in the late Middle Ages and embellished by the triumphal arch in the Renaissance, is now home to important institutions and of the civic museum in Naples.
After leaving the castle and  crossing  piazza Municipio, we get to the Piazza del Gesù, on the border of Greek-Roman Naples, it is known as one of the most beautiful squares of the city, with its aristocratic palaces and churches that accompany its development.
Between these, we cannot miss the Gothic church of Santa Chiara and the cloister with its spectacular majolica, a true oasis of peace in the bustle of the city.
The tour continues along Via Benedetto Croce, which, with its antique shops, fried food shops and bakeries, helps to offer the visitor a glimpse of the picturesque and authentic ancient capital of the Mediterranean sea.
You are now in the center of the ancient Greek-roman city with its maze of narrow streets and open spaces that step by step reveal wonders, including the Cathedral of San Lorenzo with the adjacent archaeological excavations, showing  the uninterrupted succession of civilizations that have passed and affected the city through the centuries.
The so-called Spaccanapoli, the way that splits into two from one end to another the entire historic center, one cannot miss the opportunity to stop at the many workshops dedicated to the creation of nativity scenes, one of the most cherished traditions of the Neapolitan culture, where you can buy souvenirs.
Visit the Cathedral of San Gennaro, patron saint of the city, so loved by the Neapolitans.
The homonymous chapel in the cathedral, contains busts, gold and silver reliquary and is one of the most valuable in Europe.
Walking tour with local guide. Transfers from/to the hotel available.